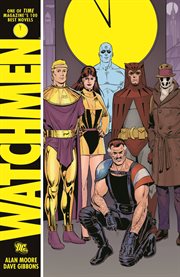 This Hugo Award-winning graphic novel chronicles the fall from grace of a group of super-heroes plagued by all-too-human failings. Along the way, the concept of the super-hero is dissected as the heroes are stalked by an unknown assassin. One of the most influential graphic novels of all time and a perennial bestseller, WATCHMEN has been studied on college campuses across the nation and is considered a gateway title, leading readers to other graphic novels such as V FOR VENDETTA, BATMAN: THE DARK KNIGHT RETURNS and THE SANDMAN series.
Searching for more content…
Publisher:
[United States] : DC Comics : Made available through hoopla, 2011
ISBN:
9781401235680
1401235689

Branch Call Number:
EBOOK
Characteristics:
1 online resource
---
Opinion
From the critics
---
Community Activity
Quotes
Add a Quote
"Yeah? Well, things are tough all over, cupcake, an' it rains on the just an' the unjust alike.."
"Because there is good and there is evil, and evil must be punished. Even in the face of armageddon I shall not compromise in this"
"There is no future. There is no past. Do you see? Time is simultaneous, an intricately structured jewel that humans insist on viewing one edge at a time, when the whole design is visible in every facet."
"We gaze continually at the world and it grows dull in our perceptions. Yet seen from another's vantage point, as if new, it may still take the breath away."
"Blake is different. He understands perfectly. He just doesn't care."
"…and all the whores and politicians will look up and shout "Save us!"… and I'll look down and whisper 'no'..."
Nowadays, when I observe some specimen of 'Carine nocturna', I try to look past the fine grey down on the toes, To see beyond the white spots arranged in neat lines, like a fireworks display across it's brow. Instead I try to see the bird whose image the Greeks carved into their coins, sitting patiently at the ear of the Goddess Pallas Athene, silently sharing her immortal wisdom. Perhaps, instead of measuring the feathered tuffs surmounting its ear, we should speculate on what those ears may have heard. Perhaps when considering the manner in which it grips its branch, with two toes in front and the reversible outer toe clutching from behind, we should allow ourselves to pause for a moment, and acknowledge that these same claws must have once drawn blood from the shoulder of Pallas.
I know people always have trouble understanding just what brings a person to behave the way that I and people like me behave, what makes us do the sort of things we do. I can answer for anybody else, and I suspect that all of our answers would be different anyway, but in my case it's fairly straightforward: I like the idea of adventure, and I feel bad unless I'm doing good. I've heard all the psychologist theories, and I've heard all the jokes and the rumors and the innuendo, but what it came down to for me is that I dressed up like an owl and fought crime because it was fun and because it needed doing and because I goddam felt like it. Okay. There it is. I've said it. I dressed up. As an owl. And fought crime. Perhaps you begin to see why I half expected this summary of my career to raise more laughs than poor cuckolded Moe Vernon with his foam teats and his Wagner could eve hoped to have done.
Explore Further
Recommendations
Subject Headings

Loading...